ST. PETE'S DANCING MARLIN
Located in the historic Deep Ellum section of Dallas, just a stone's throw from downtown hotels and conference centers, this is the kind of place where, as the song goes, "everybody knows your name."
ABOUT US
It's where locals gather to watch the Dallas Mavericks play for NBA crowns, the Dallas Stars fight for Stanley Cups, and Dallas Cowboys battle for NFL championships on big screens high definition sets around the bar. Or congregate in their burnt orange and crimson and cream on the way to the annual Texas-Oklahoma game.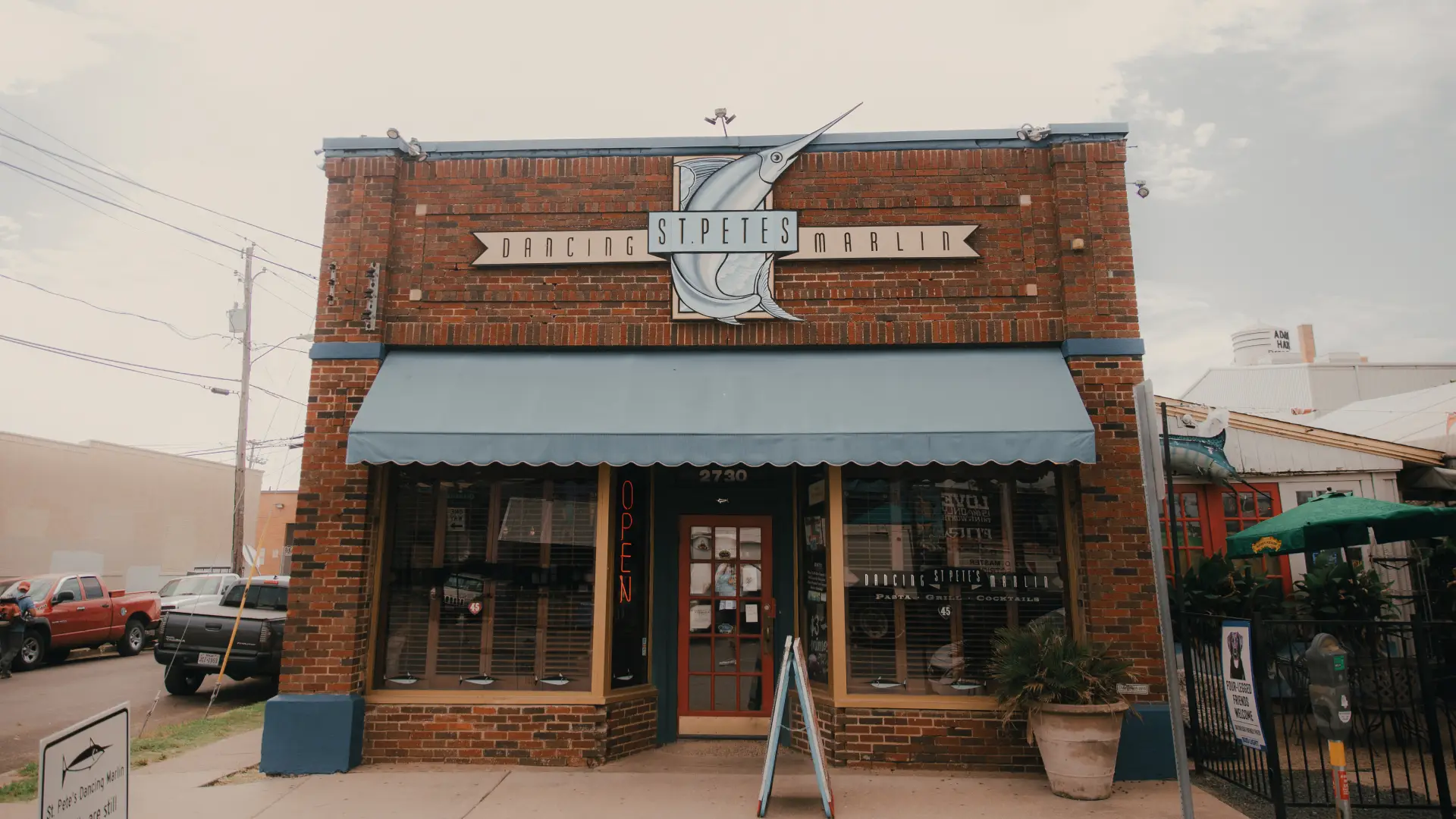 St. Pete's welcomes a bustling lunch crowd that includes doctors and hospital personnel from a nearby medical center, business people, bankers, attorneys, and a wide assortment of downtown characters that are as colorful as they are plentiful. When the sun goes down, the tone is decidedly relaxed with refreshing cocktails, tasty treats, and lively conversation, always casual, inside or on the patio, and completely comfortable.
St. Pete's features a full bar that includes more than 50 brands of bottled beers, plus another 15 on tap and a complete selection of premium wines. Founder, owner, and well-known Deep Ellum fixture for nearly two decades, Pete Zotos is your host. A native Texan, conversational, warm, friendly, and always eager to please, Pete's menu is his own. Critics refer to it as "new American" cuisine. Pete calls it "honest," and that fits. "The main reason for my menu and the large portions we serve at St. Pete's is that I wanted to serve what I call 'big, honest food,'" he said. "I learned that from my Dad and my Uncle Pete: 'Let 'em know they'll always get taken care of when they come in'. That made good sense to me."
Thick juicy burgers with mounds of golden seasoned fries; crisp green salads; a variety of delicious kinds of pasta and specialty pizzas; fresh shrimp, catfish, oysters on the half shell, and other seafood delights. Plus the St. Pete's famous marinated and grilled "Dancing" Tuna Steak, which locals know is in a class by itself.
"The hardwood floors and the 42-foot classic wooden bar are organic, honest," said Pete. "James Squires, an advertising man in Dallas, constructed the display case by hand (he also makes fine furniture locally). The blown glass pieces were made in the Hickory Street Annex just for us."
For years Pete's has been a hangout for local film crews, actors, producers, writers, and others in Dallas' renowned creative community. "We have filmed more commercials and features, and snapped photographs and fashion spots inside these walls than you can shake a stick at," he added. Pete has appeared in several himself and was once the closer on an Emmy-Award winning "Spirit of Texas" promotional announcement for WFAA-TV, Channel 8, Dallas' ABC affiliate.